Hygiene and security, our priority for our passengers
We are slowly coming back to a normal life. We are getting used to wearing face masks in public areas. Passengers and drivers are obliged to wear those masks inside the vehicles, decreasing the risk of infection. On board, the application of those measures begin with a clean vehicle. Therefore, Keolis has implemented procedures describing how each coach, bus, etc. needs to be cleaned. One procedure for each kind of vehicle (school, public transport, tourism).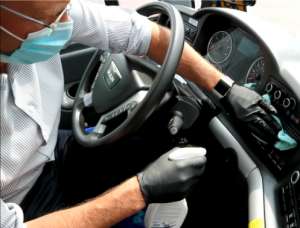 When you take the plane, knowing that big airlines follow high security standards and guarantee a lot of others, makes you serene. Our clients and passengers are expecting the same from us.

Security on the road, Keolis ISO standards, our strict maintenance plans for our vehicles, and more recently, the disinfection of the passengers' spaces are criteria that make part of Keolis new quality label.
Our CEO asked our security manager and our operational managers to explain him what should be the minimal compulsory cleaning measure to take in order to keep our passengers in security during their journey. He is convinced that we can guarantee this safe, simple and efficient measures to our clients.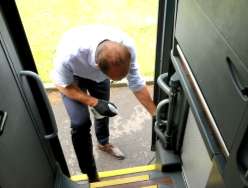 At Keolis, we are getting ready for the restart. The safety in the working environment is carefully analysed. Together with our coworkers we make sure that everyone is working in a safe way and that we always follow the procedures.
"It is important that the economy restarts in the best conditions. As you may know, the transport services we offer are essential in the society. Therefore, we all have a role to play and have to take our responsibilities. I already thank all of you for your implication!" adds Stefan De Prycker, CEO of Keolis Belgium, 'I wish our coworkers and clients a good restart, keeping in mind their own security and the one of our passengers."
This procedure is the minimum we need to implement as a transport company in this struggle against the coronavirus. It is simple, efficient and feasible to everyone.
The disinfection procedure of the vehicles follows the ordinary cleaning procedure. Therefore, the coach, bus, etc., still have to be cleaned according to the usual instructions. The goal of this procedure is the disinfection of areas regularly touched by drivers and passengers.